Life Settlement Assets PLC operates through its Board and through strategic partnerships with service providers covering investment management, actuarial, administrative, company secretarial and tracking services.
Following the merging of all underlying assets held by LSA through separate trusts into a single trust in March 2020, and a merger of the D and E Share Classes into the A Share Class in May 2020, the Company's share structure is as follows: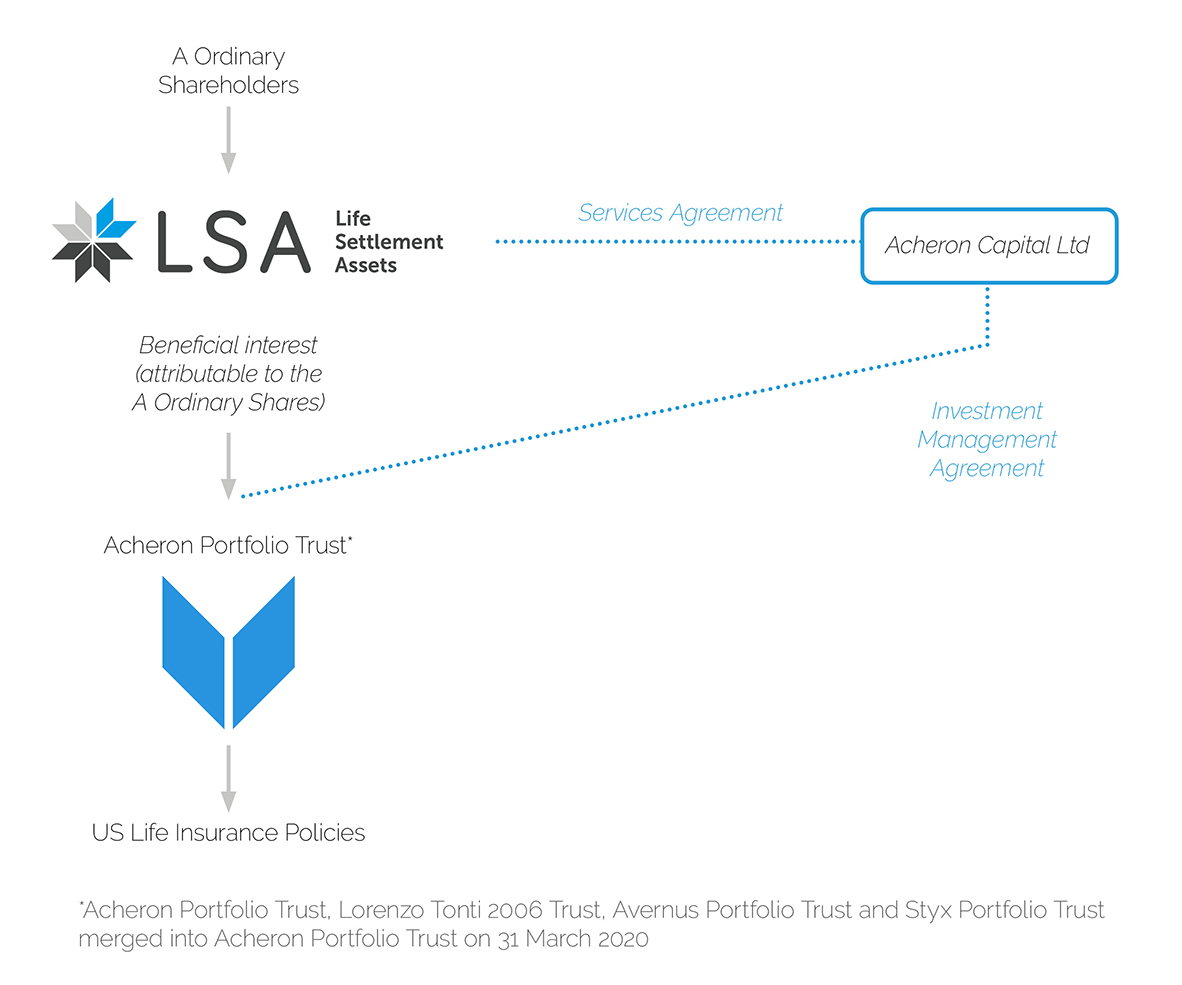 The Company's principal strategic partner relationship is with its Investment Manager, Acheron Capital Ltd, which provides investment management services to the underlying trust.
In addition the underlying trusts were merged on 31 March 2020.
Legal Form
The Company was incorporated on 16 August 2017 in England and Wales with company number 10918785 under the Companies Act 2006 as a private company limited by shares. It is a closed-ended investment company, and was re-registered as a public company limited by shares and an investment company under Section 833 of the Companies Act 2006 on 24 January 2018.
Regulatory status
The Company is not a collective investment scheme and therefore is not regulated as such by the FCA. However it is subject to the FCA Disclosure Guidance and Transparency Rules, Market Abuse Regulation ("MAR") and Prospectus Rules.
The Company is registered by the FCA as a "small registered UK AIFM" pursuant to regulation 10(2) of the AIFM rules on the basis that it is a small internally managed AIF.
The Directors intend, at all times, to conduct the affairs of the Company so as to enable it to qualify as an investment trust for the purposes of Section 1158 of the Corporation Tax Act 2010 .
The Company's shares are listed on the Specialist Fund Segment of the London Stock Exchange, and it has applied to, and obtained approval from, HMRC as an investment trust company subject to continuing to meet the eligibility requirements.
Employees
The Company has no employees as it engages third parties to provide all necessary services to it.
Community and environment
As an investment company with no offices of its own nor any employees the Company has minimal carbon emissions. Where possible, meetings are held by electronic means to reduce the Company's impact on the environment. The Company does not make any political or charitable donations.